Even minimal inadequacies related to the insulation of a building can be responsible for significant heat loss in the future, and any mistakes made during installation will not become apparent immediately, but only several years after the construction has been completed. Their detection and repair are difficult, time-consuming and quite costly processes. Therefore, no one needs to be convinced that choosing the best quality insulation materials and methods is crucial.
Effective insulation
When choosing insulation materials, thermal insulation parameters (e.g. low thermal conductivity λ), low water absorption and properly selected mechanical strength are rightly considered to be the most important. The aforementioned parameters and the correct execution of the insulation are important, but equally important is a professional and reliable approach to the investor. A detailed conversation, the aim of which is to familiarise the investor with the material, with all its features and properties, will result in the investor making a fully informed choice of a satisfactory solution.
The perfect warming? Above all, insulation must be professionally carried out
The builder should be well acquainted with all the advantages, but also the disadvantages, of the insulation he is considering choosing. There is no 'ideal material' on the construction market. Polyurethane (polyurethane insulation) also has its advantages and disadvantages, which can be exacerbated by the wrong choice of application surface and poor workmanship. Incorrect workmanship applies to all insulation materials available on the market and is one of the biggest risks the uninformed investor is exposed to. When deciding on insulation, it is therefore worth entrusting its application to a specialist recommended by the manufacturer.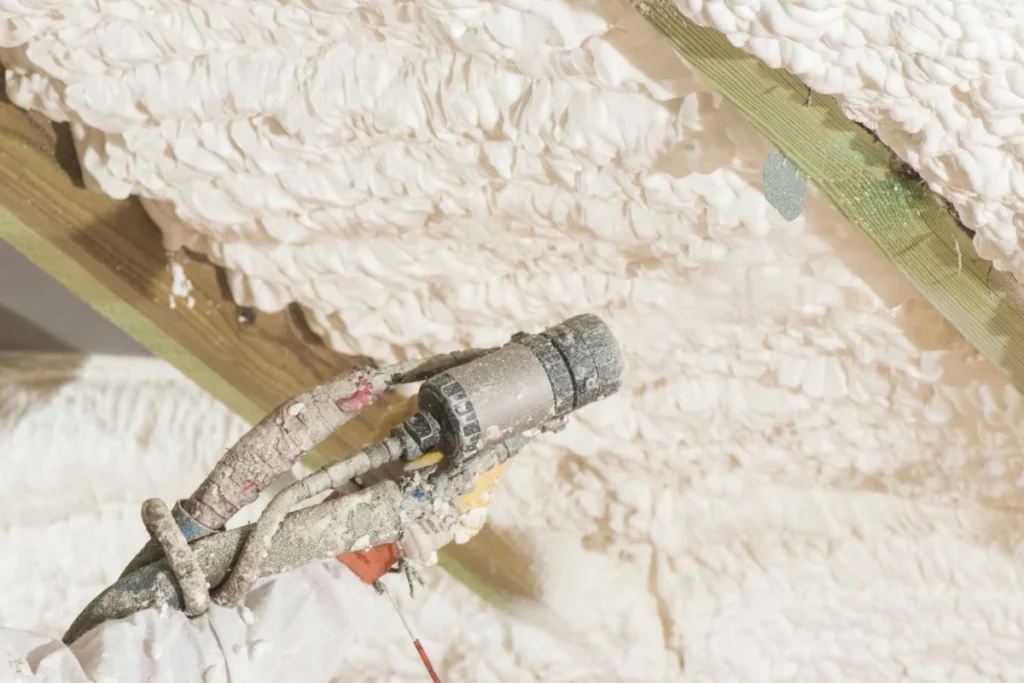 Spray foam polyurethane insulation solution
One of the solutions available on the market for effective building insulation is Crossin Insulations®, which are, among other things, polyurethane spray foam insulation systems.
Polyurethane – good insulation
Compared to other materials, closed-cell polyurethane foam has one of the lowest thermal conductivity coefficients (λmean, i ≤ 0.021 W/(m-K)).
Its strength parameters are also outstanding, which is extremely important for external insulation, e.g. for foundations, flat roofs or 'underfloor' surfaces. For example, the compressive strength at 10% relative strain is 400 kPa. This value is several times higher than the accepted value, but it gives the entire building structure additional reinforcement. Importantly, this increased strength does not in any way affect the insulation properties or the cost of the material itself. The reason is that the properties of polyurethane insulation with increased strength, are better despite comparatively smaller (often quite significantly) thicknesses.
Crossin Insulations® foam is also characterised by reduced water absorption (Wp ≤ 11 kg/m2), so that it retains its thermal insulation properties despite the passage of years and changing weather conditions in such a demanding and difficult environment as the ground.
Effective insulation means no thermal bridges
Further advantages of Crossin Insulations® brand polyurethane (PUR) foam also include: excellent adhesion to various building materials (including concrete blocks, hollow bricks and bricks), high performance and a seamless application method.
Innovative and state-of-the-art application technology using professional, high-pressure machines effectively eliminates the appearance of possible thermal bridges and allows a uniform, seamless and energy-efficient coating to be created. In addition, due to its comparatively low weight, spray-foam polyurethane insulation does not weigh down the building structure.
Spray insulation. Polyurethane in many ways
An interesting differentiator when it comes to Crossin Insulations® brand spray insulation is its dedicated approach for specific applications.You can find other systems for insulating external surfaces and others for insulating internal surfaces.
Crossin Insulations® are also systems that have been separately designed for attic insulation, ceiling insulation or wall insulation. In addition to excellent adhesion, they are distinguished by their very rapid foaming, so that the liquid form of the sprayed system does not drip or run off, which could have a negative effect on the final thickness of the insulation and heat loss in the house.
In the case of dedicated systems for external flat roof insulation or floor screed insulation, the distinguishing feature is the slightly slower foaming, which allows the system to spread better over the surface to be insulated. Crossin Insulations® spray insulation also provides consistent performance over time and, thanks to Bio Defence Technology, protection against mould, fungi and other micro-organisms.
Consultation and valuation of insulation
FAQ
What is PUR spray foam?
Spray polyurethane foam (a.k.a. spray, PUR foam) is a proven insulation material, mechanically applied to the insulated surface.
Spray foams are a modern insulation material with some of the best thermal insulation parameters. Crossin pur foam is a low-absorbing material that guarantees the maintenance of excellent thermal, moisture and acoustic insulation properties throughout the life of the house.
The spray application method of foam provides a seamless insulation layer, devoid of the so-called. thermal bridges.
Unlike traditional materials such as mineral wool, foam permanently bonds to the substrate during application and resists slipping and movement of the material over the years.
What are the types of spray foam?
Spray foams can have different structures. There are foams with closed-cell structure (otherwise rigid foam, hard foam) and pur foams with open-cell structure (otherwise semi-rigid foam, soft foam). With the structure of the foam is strongly related to the density. The more closed cells, the higher the density of the material. The structure has a significant impact on the application of the foam.
Open-cell pur foams are used in single-family housing, for insulating attics, ceilings, walls. They are excellent as insulation in frame houses.
Closed-cell foams are used for insulating warehouses, industrial buildings, agricultural buildings, halls and flat roofs.
In single-family housing, closed-cell foams are used as foundation insulation and floor insulation.
CONTENTS OF CLOSED CELLS
(according to EN 14315-1)
Class CCC1: < 20%
Class CCC2: Od 10% do 80%
Class CCC3: > 80% do 89%
Class CCC4: ≥ 90%
What is the typical use of spray insulation?
Spray insulation can be used both indoors and outdoors to insulate roofs, walls, floors and foundations.
In single-family housing, spray foam is an excellent material for insulating attics, walls, and ceilings.
Closed-cell foams are used to insulate foundations, floors, flat roofs, warehouses, industrial buildings and farms.
What are thermal bridges and how can they be located at home?
Thermal bridges (or thermal bridges) are places in the insulation layer where there is increased heat loss due to reduced thermal insulation properties due to, for example, joints. Thermal bridges arise, for example, as a result of the use of improper technology, incorrect installation or poor adhesion of one material to another (e.g., between the rafter and traditional insulation material, or as a result of flopping on the structural cords or slipping). The easiest way to observe the effects of thermal bridging is to unseal the window slightly in winter. Then you can feel with how much force the cold air enters the room. Thermal bridges can also be seen in the case of frozen rafters, which often give black vertical stripes on ceilings covered with plasterboard.
PUR foam insulation avoids thermal bridges. Spray foam allows it to be applied tightly even with complex roof structures. Permanently bonding with the substrate, it does not change its position over time, ensuring the tightness of the insulation throughout the life of the house.
Can spray insulation be used in old (historic) buildings?
The PUR foam spray method is widely used in renovation and insulation work, as well as in repair work. Due to the fact that it is an extremely airtight and durable solution that does not require the dismantling of the previous covering/material. In addition, the PU foam spray method is very popular for insulating brand-new buildings and spaces that rely on lightweight and durable solutions.
Does PUR spray foam absorb moisture?
The issue depends on the structure of the foam.
Open-cell foam absorbs moisture from the air, but also gives it back. It therefore performs well in rooms where moisture is relatively low, mainly pur foams are used as insulation in single-family housing.
In the case of Crossin Attic Soft foam, the short-term water absorption coefficient is one of the best on the market and is:
Wp ≤ 0,85 kg/m2
In the case of closed-cell foam, it absorbs very little moisture.
For example, the short-term soak factor for Crossin Wall foam is:
Wp ≤ 0,11 kg/m2
Zobacz więcej
Recent posts